The Story of Several Lifetimes, Bound with Love by Showpiece

Rhea Guruswamy
The Story of Charles Darwin: Chapter VI
Read Chapter V here.
"Books are a uniquely portable magic." - Stephen King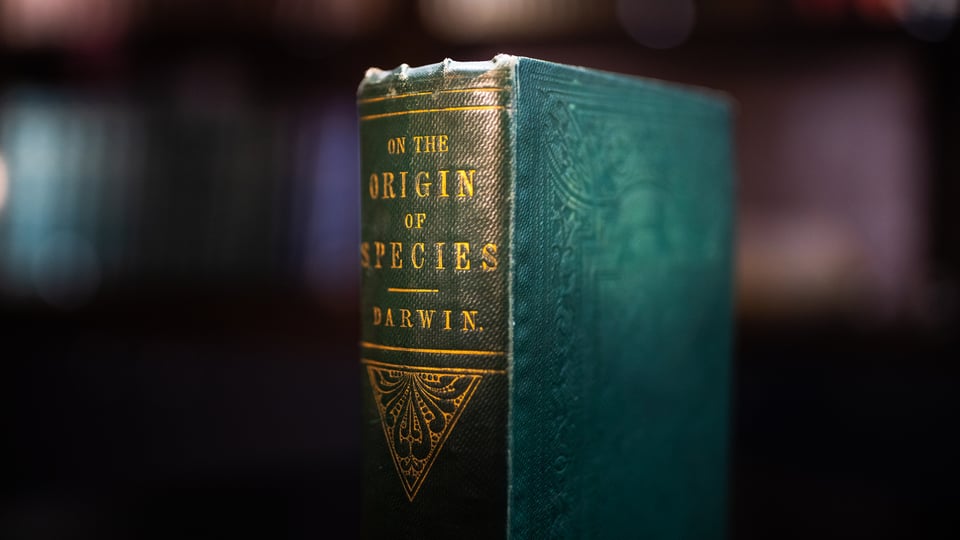 The lingering scent of old pages, carrying enough knowledge to change the world. The slight yellow tint creeping in at their corners. The spine of an intricate, gilt cloth-covered binding; graced with the gentle wear of a thousand readers. The feel of a page brushing against your fingers as you turn it over, eager to devour more words. The satisfaction of knowing it's yours to keep, and will join the rest of your personal collection on your library shelves. No wonder then, that the act of reading a beautifully bound book is an immersive and transcendent experience.
Still more indescribable however, is the feeling of holding a book that made history, in your hands. Unlike a lot of other first-editions that were either lost over time, or exhibit weathered pages and missing end papers, Showpiece's first-edition of 'Origin of Species' is in fine condition.
As always, we take special care to ensure we're able to provide our collectors with unforgettable experiences, and bring our Showpieces to life.
In undertaking such efforts to provide our collectors with the full experience of this book, and its exceptional quality, we reached out to professional book conservator and binder Arthur Green, of Green's Books, to recreate Darwin's first-edition. Read on to see what he has to say about the art of bookbinding, and how, with a keen eye to detail, he plans to make your new replicas of this Showpiece as authentic as possible.

About Green's Books, and their professional book conservator, Arthur
Q) Can you tell us a little bit about yourself, and how you got into the business of bookbinding?
A) Next year will be the 20th anniversary of my first job as a bookbinder. I worked in the basement of a small bindery next to St. Paul's Cathedral in London where I mainly undertook thesis binding. It wasn't the most glamorous or exciting work but it piqued my interest and gave me an opening into the craft, and a few years later I went back to college to study conservation. I have been lucky to have spent time in some wonderful institutions such as the British Library and Oxford University's Bodleian Library. These days I spend most of my time conserving and restoring old books. I'm very much interested in the history of bookbinding: how bookbinders worked hundreds of years ago, what their workshops looked like and what tools they used. I started my own business in 2016 and this has allowed me to bring my interests together combining both bookbinding and conservation.
Q) What makes bookbinding and conservation a passion for you?
A) Books come down to us through the ages in vast numbers, more than any other cultural object. Few of us will have paintings or clothes or jewellery that are hundreds of years old, but many of us will have an old family book, or access to old books in libraries. Books are unique in the way they transcend time and conserving these objects brings together many of my interests. It's reassuring to work with complex objects that will always have something new to offer me.
Q) How has your experience of being in the business changed or evolved over the years? What have you learned to do better along the way, some do's and don'ts?
A) Working for myself, I learnt very quickly that customers place great trust in you. Whether it's a family book of no significant financial value, or an early printed book or manuscript for a library worth a quarter of a million pounds, my job is the same: to reassure the customer that their book is in good hands, that it will be worked on professionally, and that it will be treated with great care. This part of the job has remained a constant, but I've understood its significance more over the years. There are no standard options for repairing old books, so taking the time to listen to the customer at the outset is critical.
Q) Does your approach to bookbinding/ what your business does, differ from others?
A) I have published on the history of bookbinding and regularly lecture on the subject; it is perhaps this element above everything else that informs my work. Knowing the detail of how hand-made books were produced historically is central to what I do and hopefully sets me apart.
Q) What are your goals as a book conservator? What experiences do you want to leave people with and how does your work impact them?
A) In recent years work has increased and we have taken on an assistant. I'd like to take on more young people in the next few years and hope to pass on some of my knowledge and enthusiasm for the subject.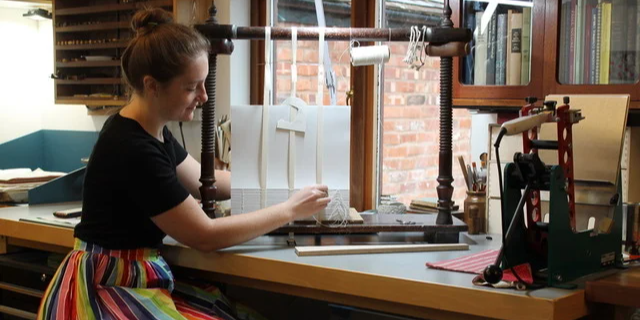 On the book binding process,
Q) Can you walk us through your approach to the binding process of books such as the
Origin of Species
that belong to a certain period? Where and how do you begin?
A) It's important that a book like this has the right overall feel. The final book is the culmination of all the small operations that go into binding a book, as well as the careful selection of materials. Even if you don't know the technicalities of book production you will know if it doesn't feel right in your hands. I try and keep a long view of a project – it's important to always step back from your work at regular intervals.
Q) Are there any unique challenges you face with this book, or extra steps that you will have to take, relative to other books?
A) The decoration on the green cloth spine and covers of Origin of Species is challenging to reproduce. Over the years I have built up a list of remarkable craftspeople who I collaborate with and this project is no different. I am working alongside an experienced graphic designer who has recreated the designs and these will then be sent off to an engraving company who will make metal dies that will be used to block – or impress – the covers.
Q) What sort of experience are you hoping to create for, or provide collectors of the Origin of Species with? How will the binding process make it special for them?
A) I hope that the collectors will enjoy owning a hand-made book. Not only is the facsimile of Darwin's Origin of Species a reproduction of this culturally significant text, but it's also a faithful reproduction of a hand-made object, following all the methods of the time.

On the books themselves,
Q) Do you have any favourite types of books that you gravitate towards, or specifically enjoy engaging with?
A) I enjoy the great variety of work that we get in the studio but I do particularly like working on stationery bindings – books that are written in – as these are by definition unique. They are often quite plain and undecorated so are sometimes overlooked, but often have the most compelling stories behind them.
Q) What are some of the most prolific books you have worked on?
A) Book conservation is a little like Desert Island Discs where you get to take the Bible and the Complete Works of Shakespeare for free. It's almost impossible to extract these two great books from my work (not that I would want to), and I have enjoyed working on some wonderful examples over the years. We've had a King James Bible and 'Breeches Bible' in the studio recently; but the chance to work on all four of the Shakespeare Folios has been very special; in total I have now worked on nine of these! The Folios are the first time Shakespeare's works were printed in one volume. The famous 'First Folio' was printed in 1623 so will celebrate its 400th anniversary next year.
Q) What are some interesting features of the
Origin of Species
that stood out to you?
A) The mid-19th century is an interesting time in the history of bookbinding. It's a period of transition: many elements of the binding process had become mechanised; however, much was still done by hand. Origin of Species benefits from both aspects of this period: it has attractive green book-cloth (that had been developed just a few decades before) and has detailed gold blocking on the spine; but it's also a book that was hand-sewn, arguably making each copy a unique object.
Our first edition 'On the Origin of Species' has spent a lengthy 163 years traveling through various collectors' and readers' hands. Darwin's ideas and theories not only deserve to continue educating people, and be celebrated, but also be available to all collectors that look to share in his passion for collecting, by making his publication their own.
With our specialised gold tier, you can now not only own Pieces of this exceptional first edition, but also own your own replica, designed to match the original copy. Our silver tier also comes with some exciting benefits- read more about our tier system and how it works here.