Showpiece's Exclusive Christmas Guide

Rhea Guruswamy
Giving unforgettable gifts has never been so easy!

With Christmas upon us, we're here to save you the hassle of navigating through last-minute crowds and stressing out over which gift wrapping looks best. So, put on a bit of WHAM!, put your feet up by the fireplace and enjoy a glass of wine, knowing that Showpiece can deliver the perfect presents.
With us, you can buy your loved ones Pieces of some of the world's rarest treasures, which come alongside physical benefits such as replicas and reproductions of our iconic collectibles.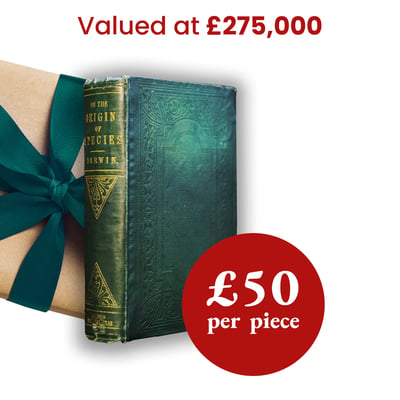 For the Book Worm:
When in doubt, a good book triumphs every time. And what better book to give, than one that truly changed the course of history: Charles Darwin's 'On the Origin of Species'? As well as Pieces in our first edition of this game-changing text, you can access additional physical benefits through our silver and gold tiers. The silver tier includes a high-quality, framed print of Darwin's famous diagram of the 'tree of life', while our gold tier provides a hand-bound replica of the original book.
Available from £50. Tiers include a framed replica lithograph plate of Darwin's 'Tree of Life' taken from 'On the Origin of Species' and a hand-bound replica of the first edition by Green's books binders and conservation experts.
For the Art Fanatic: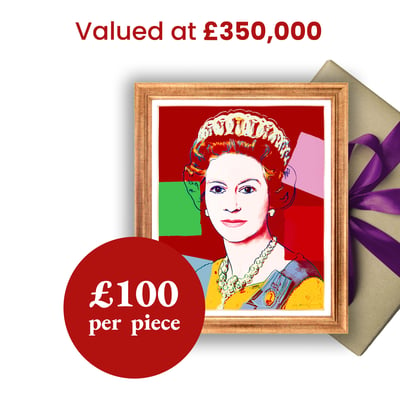 If your loved one woke up on Christmas morning to find they're a legal owner of an Andy Warhol, you could forgive them for thinking they're dreaming. So it might feel more real with a full-sized reproduction under the tree! Andy Warhol's 'Reigning Queens HC 3/3' is the ultimate present for all art lovers and both our silver and gold tiers come with replicas of the portrait. A jewel in Warhol's final series before his untimely death, the print of HRH Queen Elizabeth II (created using his signature silkscreen technique) has become a beautiful tribute to the legacy of one of the most influential figures in history.
"I don't think less is more. More is better."- Andy Warhol.
Showpiece is coming to town on a sleigh of rein-tiers, so why stop at owning just a piece of this portrait? With our silver tier (10 Pieces) or gold tier (50 Pieces), you can receive several additional benefits. These range from a Reigning Queens collector's book, a scannable link to your collection and high-quality, colour-matched King & McGaw replicas of the Showpiece licensed by the Warhol Foundation.
Available from £100. Tiers include colour-matched reproductions by King & McGaw in different sizes. A beautiful limited edition book is available with silver and gold tier packages.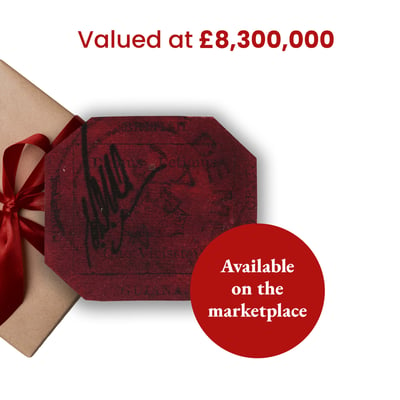 For the Stamp Aficionado:
Doesn't Grandad (other philatelists are applicable) deserve the most expensive item in the world (by weight)? The 'Mona Lisa of stamps', the British Guiana one-cent magenta, is worth around £8 million yet weighs only 40 milligrams. You can gift Pieces of the stamp through our Marketplace, and give your loved one the chance to become part of its remarkable story. They'll join a long list of owners including famous historical figures, tycoons and a murderer.
Available through the Showpiece Marketplace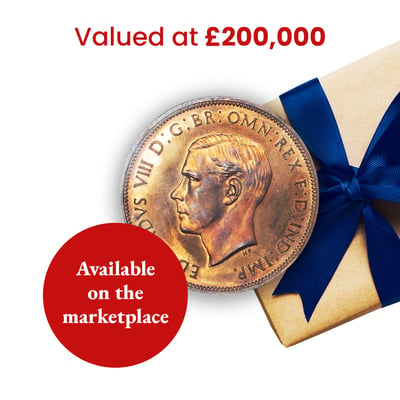 For the Coin Connoisseur:
You can't get much rarer than a coin that was unobtainable to the person minted on it! Showpiece presents the £200,000 1937 Edward VIII One Penny as a gift option for your family and friends who love collecting coins. What makes this penny so rare? Besides being one of only two coins in the hands of private collectors, it depicts the UK's shortest-serving monarch. Edward VIII's 11-month reign was so brief (and controversial), that the coin never went into circulation. Years later, when he discovered that some of these coins still existed, he asked to have a set - but his brother, King George VI, turned him down!
The only thing you might have to worry about is that elaborate roast dinner. We've got the rest covered- go on and gift your loved ones a Piece of history this year.